Pioneer in all things concerning sustainability
For us, it is only natural to operate in a sustainable and environmentally-friendly manner. Carefully and conservatively handling resources has always been our philosophy from the beginning at Natürlich HELL and will continue to be. From photovoltaics to pellet heating and from solar panels to energy-saving lamps and biodegradable cleaning agents - sustainability is something we apply to every aspect both big and small, of course not as a dogma but as our own personal style.
In the mood for a joyride? Then hop in one of our environmentally-friendly electric cars. The Renault Zoe runs on 100% electricity, and with this car, you can be nature-conscious as you explore the Zillertal for up to 300 or 400 meters. The flowers, cows, and sheep on the roadside will thank you.
Joyride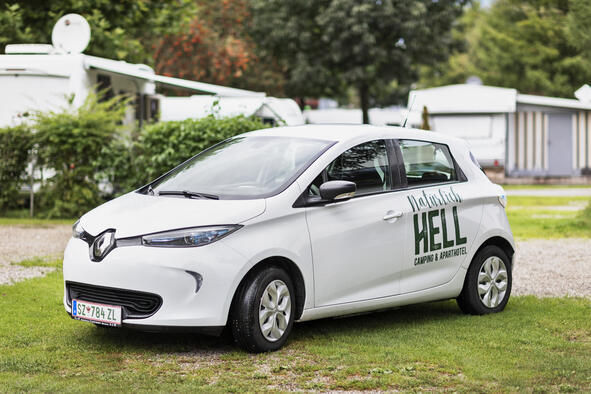 Ecology has a long tradition here
Heat requirement for 5,500 m²
300 m³ of water in the outdoor pool with a 25°C water temperature (May to September)
170 m³ of water in the indoor pool with a 31°C water temperature (year-round)
900 m² of photovoltaics
450 m² of solar panels
450 kW of pellet heating - (pellets from our own wood processing plant in Fügen)
100 kW of firewood heating – we only use wood from our own premises
Thermal spring for an emergency supply
Heat recovery system for all ventilation systems
16 heat meters for all different areas
Sophisticated regulatory system with energy accounting
Energy efficient pumps, 28,000 l buffer tank, 10,000 l hot water heater
Only LED and energy-saving lamps are used
Water usage/year– ca. 11,500 m³ = 176 l/person/night
Electricity/year– ca. 550.000 kW/h = 8,5 kW/h/person/night

about 120.000 kW/h energy from the sun

Pellet heating – annual consumption ca. 95 tons
Solar system approx. 150.000 kW/h per year (= 31 tons of pellets)
Logs approx. 25.000 kW/h per year (= 6 tons of pellets)
Residual waste – 25 tons/year
Animals also enjoy their stay here - along with countless small, colorful birds, red kites have been nesting in the forest above our holiday resort for many years. With a wingspan of 150 cm, they are one of the largest birds of prey in the Alpine region, and you can enjoy their daily flight show!
Naturally, it was important for us to be awarded with the Austrian Ecolabel and EU Ecolabel. We have also belonged to the "Eco Campground" group since 2005. In December 2014, we were presented with the Klimaaktiv award by the Ministry of Life and as a Klimaaktiv partner, we are happy to provide our operating numbers.
2015 - Klimaaktiv partner
2014 - Klimaaktiv award - the only tourism business recipient
2011 - Austrian Ecolabel and EU Ecolabel
2005 - Named an "Eco Campground"
2000 - Tyrol Sustainability Award
1959
In addition to his farm, our grandpa Alois Hell opened the campgrounds that he operated with only one power outlet and a small number of washing opportunities. With the formation of the ski areas, the campgrounds suddenly became a place of interest in winter. The washing facilities were modernized, and Rosina rented a few rooms in the farmhouse.
1991
Karin and Alois Hell, the 3rd generation, took over the business and started numerous innovative, sustainable projects.
1999
The pool was built.
2000
The new sanitary building was built as a timber framework construction and is thus a low energy construction.
2001
The main building was built with a sauna area and vacation apartments.
2007
The reception area was added to the house, the restaurant was enlarged, and the kitchen was updated.
2012
The 4 lodges were built.
2014
All buildings were connected under 1 roof thus creating a "bathrobe-suitable" facility in which you can reach all buildings dressed in your bathrobe. With the new apartments, indoor pool, fitness studio, enlarged sauna area, bright rooms for massages and aerobics, and the spacious children's area, everything is now connected. The centerpiece, the sophisticated power station, takes up over 300 m² and helps us save an enormous amount of energy.
Mindfulness instead of sacrifice
In our eyes, sustainability does not necessarily have anything to do with sacrifice but rather involves better thought-out everyday practices. Quality, regionality, energy conservation, retention of value, and functionality – this is sustainability for us. It is about deliberate, careful action in all situations. It is the little things that we implement daily with our employees and with our guests that amount to a large, resource-conserving whole.
Since 2011, we have been designated with the Austrian Ecolabel and the EU Ecolabel. We have also been made a partner of Klimaaktiv with our energy concept. This however does not mean that we rest on our laurels. We remain driven, because we constantly strive for even better solutions and possible improvements in all respects.